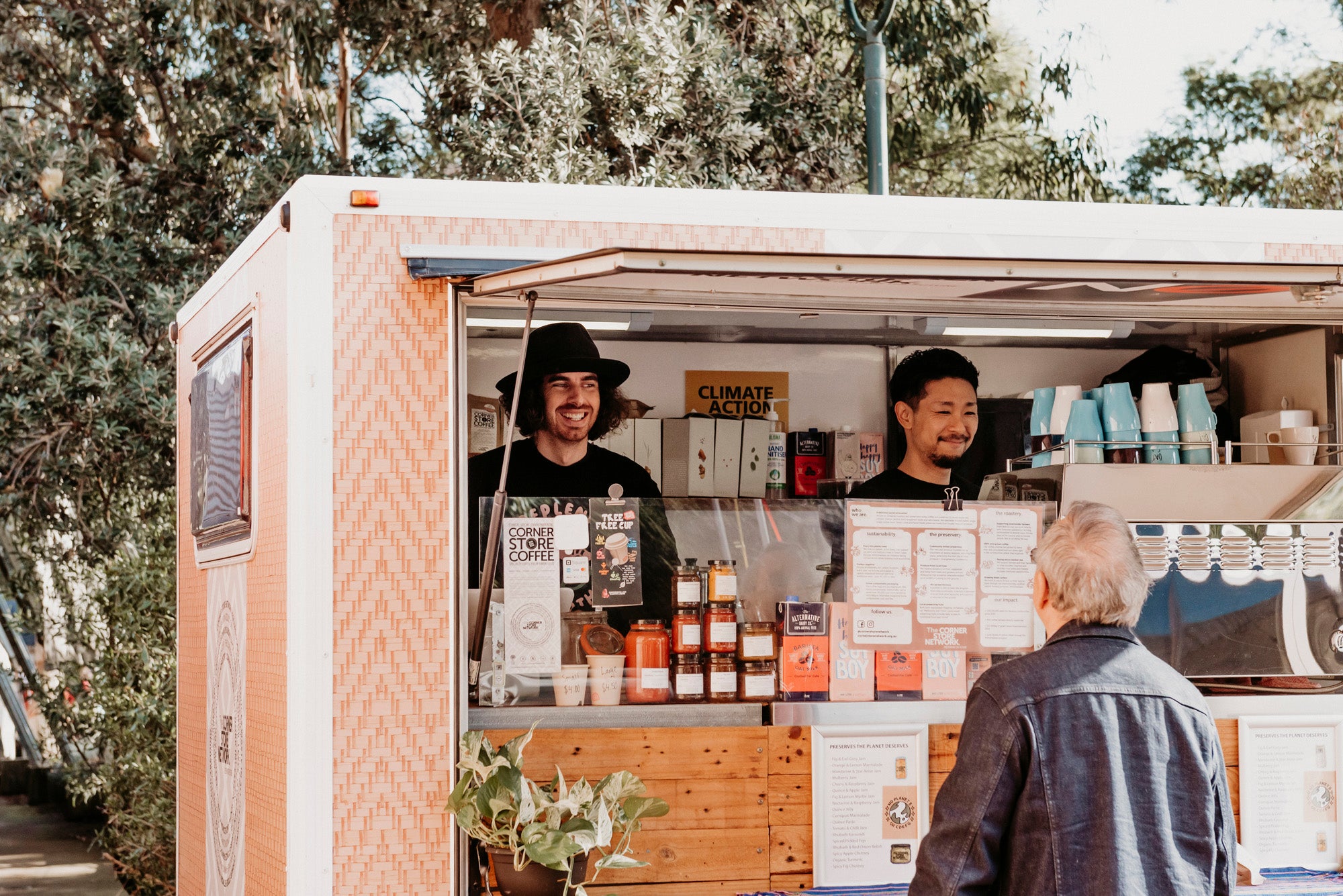 ETHICAL EVENT COFFEE
From humble beginnings as a hand-built coffee trike, our mobile coffee offering has since evolved into the popular coffee van you see today. Over the years we've caffeinated all sorts of events across Melbourne and wider Victoria: festivals, farmers markets, weddings, corporate events, school fetes, conferences, sport games, council fairs and many more. 
We pride ourselves on being one of Melbourne's best coffee van for environmentally conscious events.
Not only is our coffee van kitted out with the best commercial equipment (which = maximum coffees!), it employs a reusable cup scheme to minimise waste and can run off a solar set-up  when your event has no power - or if you'd simply prefer to minimise your footprint!
Interested in hiring the Corner Store Coffee Van for your next event? Please fill out the form on our contact page and we'll be in touch!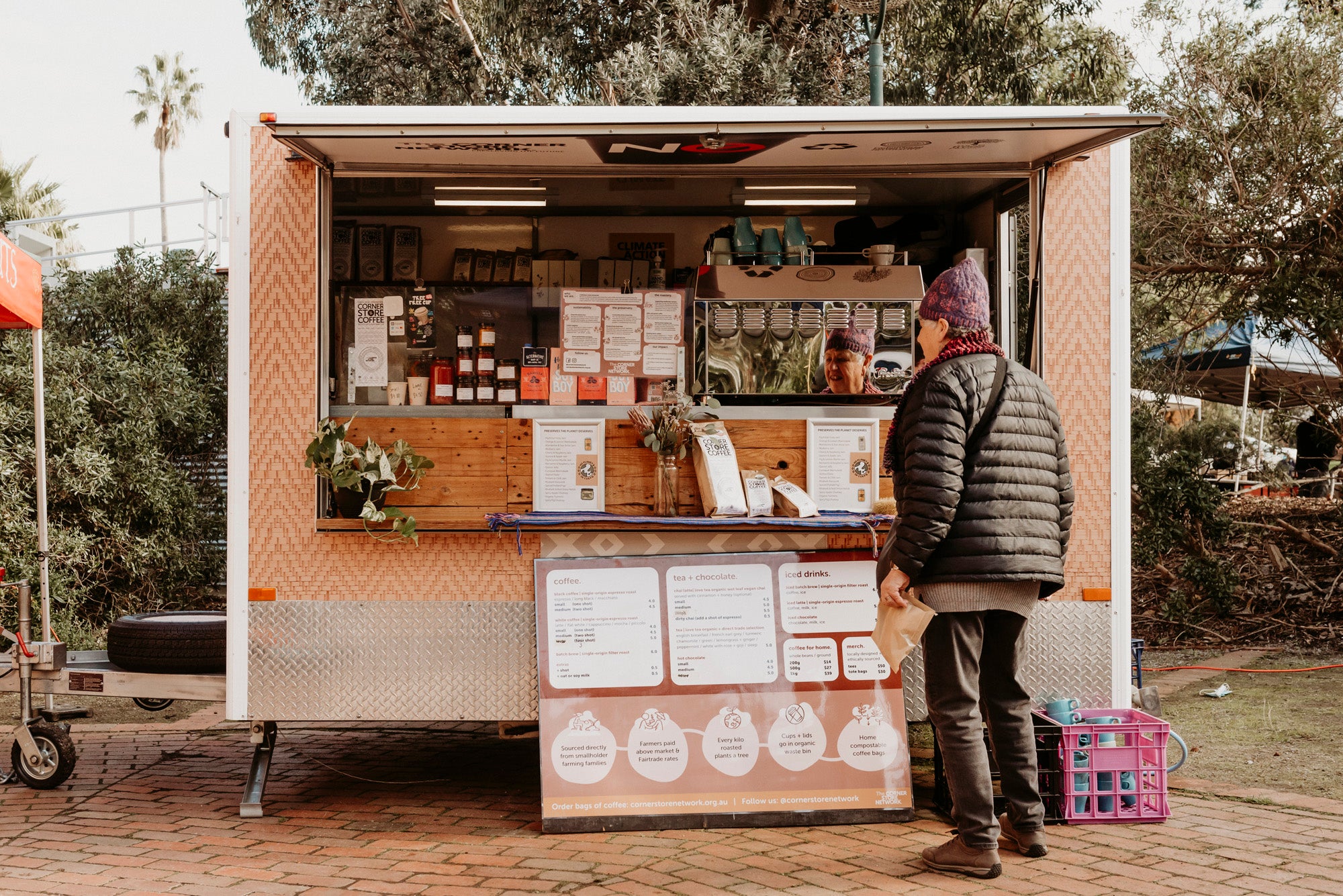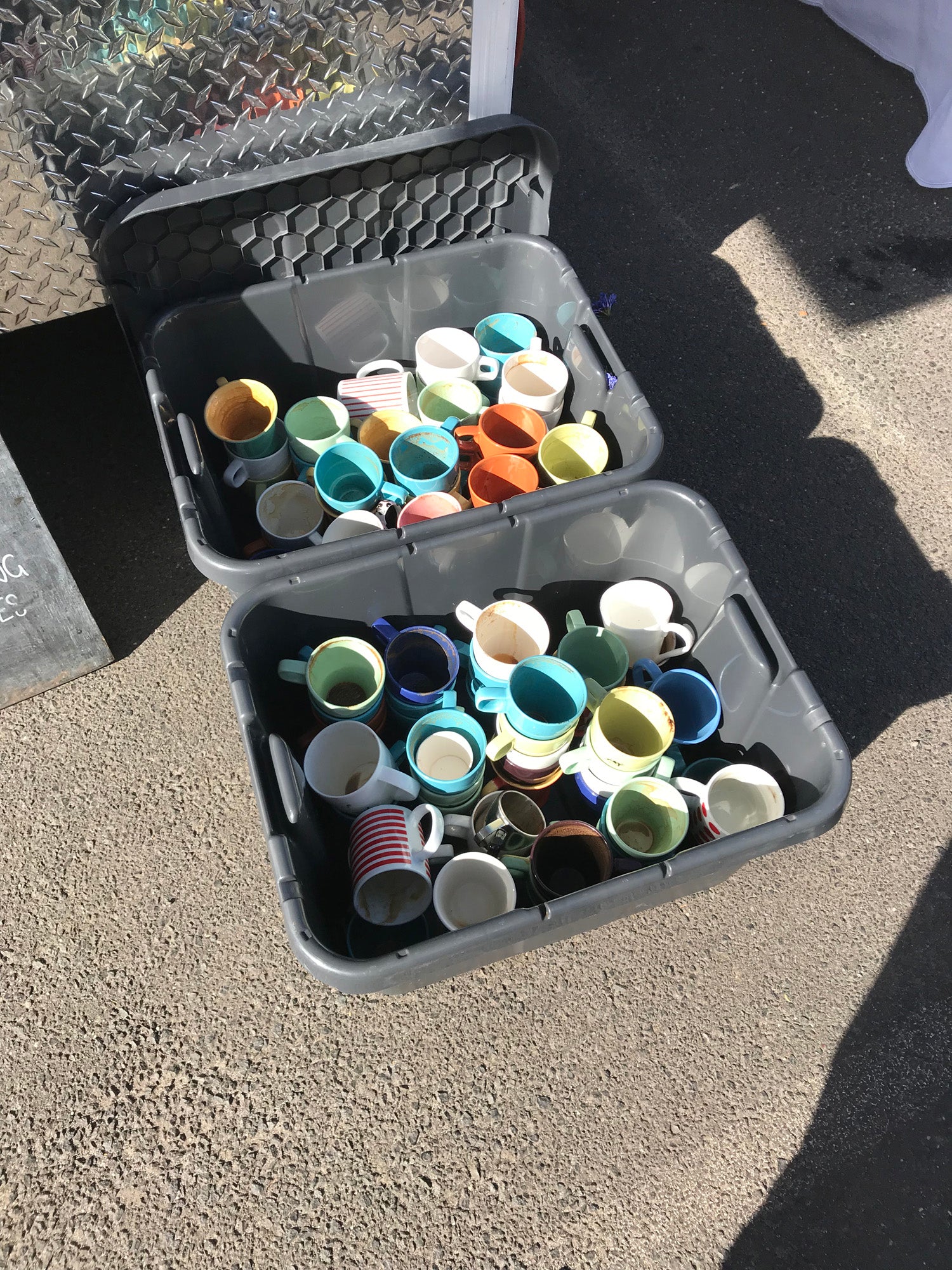 What's on the menu?
From a soy piccolo to an extra strong chai latte, our mobile coffee van can pump out all the beverages available at our cafe: hot coffee, cold brew, iced coffee, herbal tea, hot chocolate and more. All available with a range of milks (dairy and plant based) from locally sourced farmers and producers. We can also provide a selection of cakes, biscuits, slices and pastries should you require.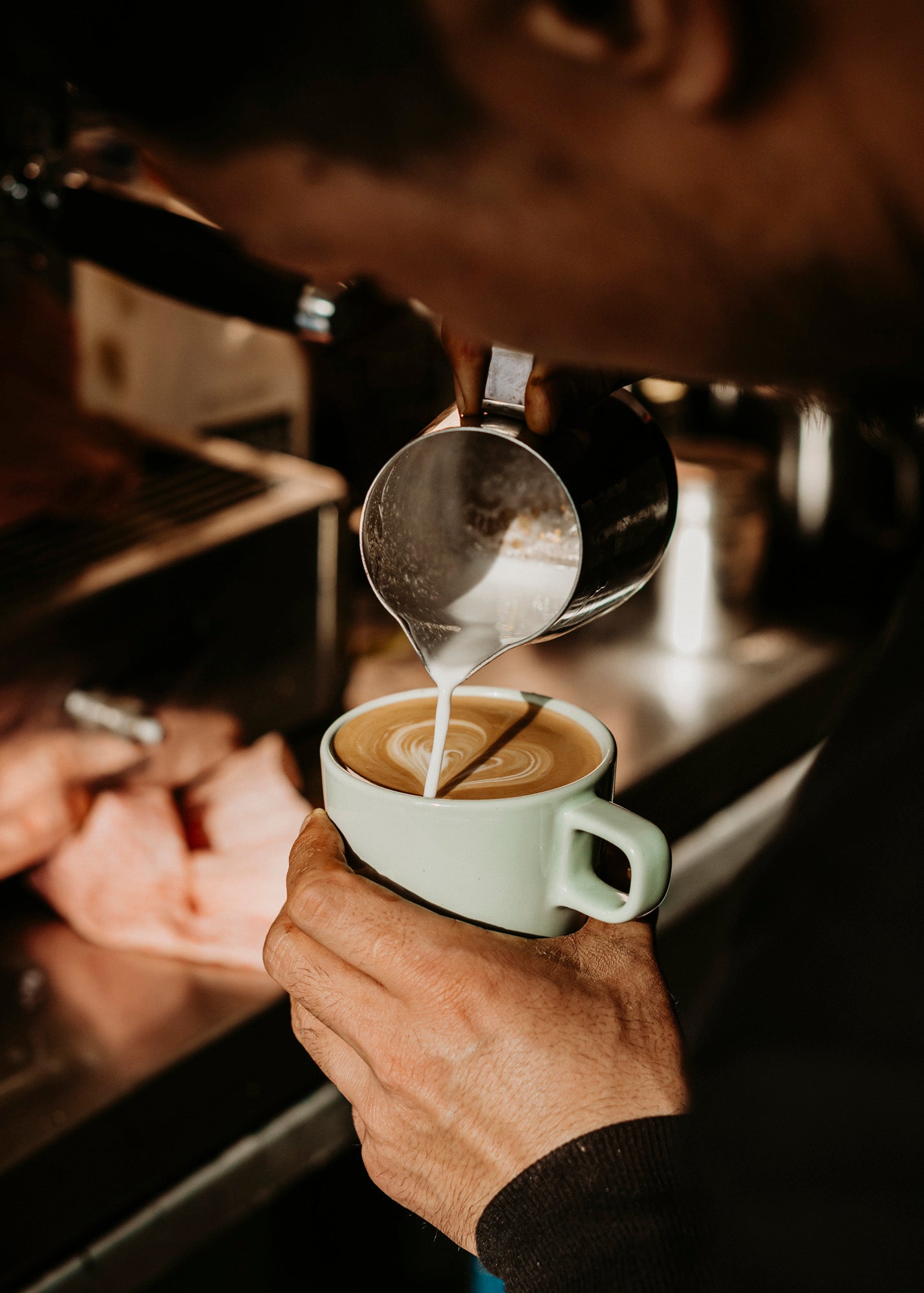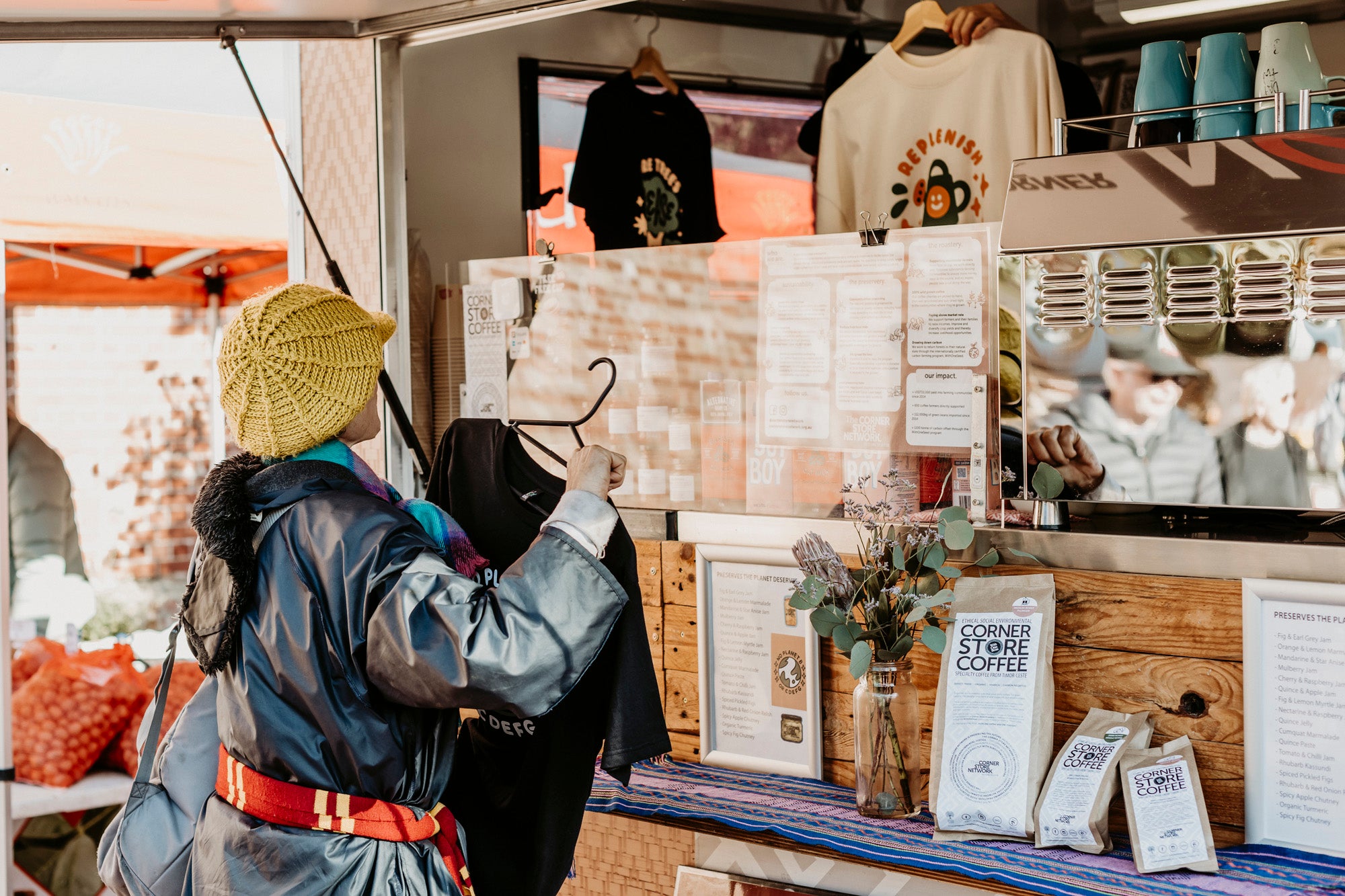 Find us monthly
Slow Food West Footscray
2nd Saturday of each month

9am – 1pm

Barrett Reserve, West Footscray


Slow Food Spotswood
4th Saturday of each month

8am – 1pm

Kingsville RSL, Spotswood

You can find other public events on our Facebook page - be sure to give us a like while you're there!
To combat the disposable cup scourge, we've implemented a reusable cup system whereby your guests or customers can take one of our mugs, return it once done and we'll wash it back at our HQ in our commercial kitchen. 
We serve organic milk from Schulz Organic Dairy and plant based milk from MilkLab and Califia.
Our coffee van is set up for big and busy events! Perfect for outdoor set-ups, our commercial coffee machine is suitable for your busiest festival or market. We've fuelled Queenscliffe Music Festival, Port Fairy Folk Festival and are set up every weekend at Farmer's Markets across Melbourne. Thanks to our expert baristas, you'll be impressed with how many coffees can be pumped out in an hour!
The minimum hire time for our Melbourne coffee van is two hours and includes two baristas.